APHA Conference 2017
International Conference on Asian History, National Identity and Globalization
---
Tentative Date: Oct. 28th and 29th, 2017, Washington DC, U.S.A.
Sponsor: Asian Politics and History Association (APHA)
The unprecedented pace of globalization, especially in the last two decades, has impacted every aspect of our public and private lives, as well as international relations. China, after 15 years of negotiation, became a member of WTO in 2001, and 15 years has passed since, China has grown as an international economic powerhouse, and its cultural and political influences on neighboring countries and the rest of the world become a new normal. At the same time, the tensions in South China Sea, Taiwan-Strait, as well as South-North Korean confrontation, along with the triangular relationship of Japan-South Korea-U.S., draw the attention of the world and heated debates among academia. Hence, how do we make sense of the changing geopolitical maps? How does the social media shape or reshape the national identify of each country? How do we look beyond foreign policies and examine the deep cultural roots that have profoundly impact on international relations? Those are the topics we wish some scholars could shed lights on.

PROPOSED PANELS
Youth and National Identity in Social Media Era
They live in different country, but they worship the same movie star; they speak different languages, but social media links them in and they discuss sensitive political issues concerning bilateral relations on the same forum, while their political leaders are visiting each other, discussing the same topics without finding solutions. Global society has witnessed the phenomenon of social media and its effect on individual, national and transnational identities over the past decade and there is a paradigmatic shift in the understanding of national identity today. This panel focuses on how regionalism, cultural identity is transformed under the impact of social media, how does social media change the perception of national identity and social values. What is the difference between national identity and cyber identity—so to speak.
National Identity Gap and South China Sea Conflict
Political scientist Rupert Emerson defined national identity as "a body of people who feel that they are a nation. National Identity is a sense of belonging and emotional attachment to a nation, However, Benedict Anderson believes that a nation is a community socially constructed, imagined by the people who perceive themselves as part of that group.
In this panel, we will look into the Asian history, foreign policy, and the national identity gap between China, Vietnam and other South East Asian countries in the context of South China Sea dispute.
Development, Personal Identity and National Identity Shift in the Process of Urbanization
The scale and scope of China's developmental changes brought about by globalization in various arenas is truly changing the social stratification of China, villagers become migrant workers, teachers become entrepreneurs, dirt-poor farmers become multi-millionaires, how does the change of individual identity impact on the collective national identity?
We hope to continue our discourses and debates on the prospects and challenges that lay ahead for individuals and societies to sustain in the globalized world, on all of the above themes and even those that are not captured within this range of concerns. The Conference aims not just to gather a critical mass of ideas but also emerge as a launching pad for future research collaborations.
The conference papers should be edited and published in the Journal of Asian Politics and History (JAPH) or as a separate publication.
---
KEYNOTE SPEAKER: Dr. Gilbert Rozman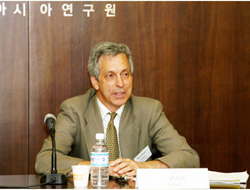 Theme: History, National Identity Gap and Triangular Relations of Japan, South Korea and the U.S.
DR. GILBERT ROZMAN, Emeritus Professor, Princeton University and editor-in-chief of The Asian Forum. He taught at Princeton University for more than forty years. Recent research has focused on the interactions of four regional powers and the two Korean states, resulting in a five-book series on strategic thinking in Northeast Asia and a three-book series on national identities and their impact on bilateral relations. He also has been editing an annual volume with the Korean Economic Institute covering four themes about international relations in East Asia. He conducts research in Chinese, Russian, Japanese, and, on occasion, Korean.
---
IMPORTANT DATES
| | |
| --- | --- |
| Submission of abstract | July 30th, 2017 |
| Notification of acceptance of abstract | August 15th, 2017 |
| Last date for submission of selected papers | Sept. 15th, 2017 |
| Last date for registration | Oct. 20th, 2017 |
---
ABSTRACT SUBMISSION DETAILS
Abstracts must include context, purpose, methodology, major findings, implications and key words Abstracts, along with a brief bio-data should be sent to davidho@clarewood.org or mzhong@clarewoodva.org
| | |
| --- | --- |
| Word limit | 500 |
| Font | Times New Roman, 12 point |
| Spacing | 1.5 |
| key words | Five |
| Referencing format | APA or MLA |
| Title page | Title of the paper, author/s, affiliation/s, and contact details |
Criteria for selection of papers: Relevance to the conference theme, methodology, originality, sound conclusion/s, relevant references
---
PAPER SUBMISSION GUIDELINES
Participants will be intimated upon acceptance of abstract and thereafter they are required to submit the registration form along with full paper. Submitted papers must NOT have been previously presented, scheduled for presentation, published, accepted for publication and if under review must not appear in print before the conference. Detailed guidelines for submission of full papers will be intimated to the selected participants. Accepted papers will be published in conference proceedings.
REGISTRATION FEES
Conference Registration fees are inclusive of meals and conference kit
· Academics and practitioners: $50
· Doctoral students: $20
· Participants (desirous of participating but not presenting): $30
Conference Venue and Logistics:
The conference is sponsored by Clarewood University located at 1840 Michael Faraday Drive, Suite 100, Reston, VA 20190, USA. It is 15-minute drive from Dulles International Airport. The Clarewood University will coordinate the logistics including lodging, transportation and conference arrangements. Participants are responsible for all the expenses incurred.
---
PAYMENT
Payment method: Check (payable to: Clarewood University)
ACCOMODATION
Accommodation is available near the conference location. Assistance will be provided in booking accommodation at reasonable rates in convenient locations in the city. The accommodation charges are separate.
---
Conference Management
Conference Chair: Mark Zhong, Ph.D. (mzhong@clarewoodva.org)
Executive Assistant: Asma Boubekri (aboubekri@clarewoodva.org )

Telephone: (570) 526-4777
For updates, keep checking the APHA website: http://www.aphadc.org